---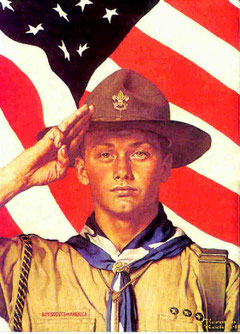 An Exhibition about Scouting
is currently on display
at the
Bushnell Historical Society, "Heritage Room"
Bushnell Recreational and Cultural Center
300 Miller Street, Bushnell, IL
The exhibition is on display now
until the third week of November
The gallery is open Mon.-Fri., 8am-4pm
Admission is free
---
PRESS RELEASE


November 2

, 2010

For Immediate Release
Contact:
Linda Cox

New Copperfield's Book Service
A Look into Macomb's
Historic Homes
Macomb Homes with Names, by Allen R. Nemec
Macomb, IL

- November 2, 2010 
- Macomb resident Allen R. Nemec will give the first look into Macomb's historic homes and his new book at New Copperfield's Book Service, 120 North Side Square, Macomb Saturday November 13 from 10:00 A.M. to Noon and 1:00 to 2:00 P.M.    
  Macomb Homes with Names: A Look into Macomb, Illinois' Historic Homes, their past inhabitants and a view of them today 
by Allen R. Nemec is a collection of historic and contemporary photographs of the historic homes of Macomb. Extensively researched, the author has included histories and photographs of many who have lived in these houses through the years.
  This book is sure to be local history at its most fundamental -- the story of you and your neighbors. Only a limited print run has been produced.
  Allen R. Nemec will be at New Copperfield's Book Service Saturday, November 13 from 10:00 A.M. to 12:00 and 1:00 to 2:00 P.M. to sign and discuss the book.


---
For Immediate Release
October 29, 2010
Who Collects What…
with Terry Dillard
Thursday, November 4
7:00 - 8:00 pm

On Thursday, November 4th, the Western Illinois Museum presents, Who Collects What… with Terry Dillard.  Examples from Terry Dillard's collection are included in the current exhibit, New Harmonies.  His interest in locally made instruments began while in high school when he started collecting fiddles and the stories of those who made them.  The program promises to be not only informative about collecting but rich in local history.
Who Collects What… with Terry Dillard is the four in a series of programs for the inquisitive mind.  Collecting takes focus, determination and keen vision.  This series looks at the wide range of collections in the region and provides insightful presentations by those who are seasoned collectors.  Whether you are a passionate collector or curious observer, these programs will provide a glimpse into the practice of collecting, how to manage and care for a collection, as well as, an opportunity to exchange ideas and swap stories.
The event is free and open to the public.  Donations appreciated. Doors will open at 6:30 pm and light refreshments will be served. Come early and view the current exhibit, New Harmonies: Celebrating American Roots Music on view through December 4, 2010.
The Western Illinois Museum is located at 201 South Lafayette Street in Macomb, Illinois.  For more information call 309-837-2750 or visit the museum's web site: http://westernillinoismuseum.org.
---
The Illinois Civil War Sesquicentennial website www.illinoiscivilwar150.org will be launched February 11, 2011, the official kick-off date of the Nation's remembrance.  The site will feature a state-wide calendar of events related to the Sesquicentennial, a timeline of Illinois and the Civil War, U.S. Grant day-by-day, downloadable PDFs of Civil War related articles and educational materials, bi-monthly features to keep the site evolving and fresh, and suggestions for further reading on topics throughout the state.
A pdf form is available via the website to use for any events you'd like to see on the state-wide events calendar.  Send the form and/or an article you would like to have posted on the site, please email the information to Karen.everingham@illinois.gov.
---
Cemetery Mystery!
Over the last four summers, the McDonough County Historical Society has sought to locate and mark each of the cemeteries in our county with a new sign. At one point in the 1980s, Libby Grimm, Marge Harris, and Dwayne Lester identified over 120 cemeteries or burial sites within McDonough County.
Our goal is to reclaim, restore, and return respect to these resting places of our ancestors, forebears, or community leaders. It is already obvious, as a result of our search for some of these remote and isolated places, that the cemeteries or grave sites have become totally abandoned, neglected, and in some cases destroyed. 
When a cemetery is desecrated (a violation of Illinois statutes), we lose a component of our history and culture. We also make a negative statement about our humanity and civility. 
We can be proud of many of our neighbors who have volunteered to clean up and repair a neglected cemetery. And we thank a large number of individuals and businesses who have supported the 75 signs installed at these repositories of local history, art, architecture, demographics, and family life.
Now I am sending out a call for help to solve a cemetery mystery.
I had been searching for two years to find the Vawter Cemetery in Bethel Township. The first burial was Earley Vawter in 1835. Sebastian Hoover, a veteran of the

War of 1812

, was buried there in 1839. The last funeral was in 1920.
I eventually learned the name of the property owner where this cemetery is located. Alvin Curtis, who as a lad of four years old attended that last funeral in 1920, owns the property. He enthusiastically agreed to take me to the Vawter Cemetery.
Alvin no longer farms the surrounding land, but he vividly remembers approximately 25 large and beautiful headstones in an acre of fenced land with concrete posts and

barbed wire

.
Last week we parked as close as we could. Just before climbing over fences and trekking across dense brush, weeds, and thorn bushes, a nearby neighbor warned us that two years ago he spotted three pickup trucks driving away from the cemetery area. When he went out to the cemetery, all of the headstones had been removed.
Alvin was devastated at this bad news. But wanting to see for himself, he led me for 30 minutes through the nastiest, thickest, tallest field of weeds that I've ever experienced.
We found the "cemetery," or what was once a cemetery. The posts and wire fence are still there. The gate has been removed. Under fallen timber and forest debris, we did find three small foot stones with mere initials carved into them. But all of the 25 family and historic headstones had been removed.
Next summer the MCHS will install one of its signs marking the Vawter Cemetery. But before that happens, I ask all of you to help solve the mystery of the missing memorials to our ancestors resting there.
If you have any clues to who removed the headstones and/or why, please report your information to the McDonough County Sheriff's office (309/833-2323), or give me a call: Gil Belles, 309/837-9441,

AG-Belles@wiu.edu
---
For Immediate Release
October 6, 2010
Western Illinois Museum announces fundraising event
Who Collects What…
A Tour of Local Collections
Sunday, October 17
The Western Illinois Museum announces a fundraising event, Who Collects What… A Tour of Local Collections, highlighting the unusual collections housed in three Macomb homes. 
Historic artifacts reside in both museums and homes, evidence that individuals and institutions believe in the importance of preserving our cultural heritage.
Three active supporters of the Western Illinois Museum invite the curious and inquisitive to share the wonder of their personal collections of interesting antique objects.
Art Clayton will display and describe his vast collection of unusual and ornate letter openers, exquisitely mounted and framed by him.  Allen Nemec collects really old and elegant toys, bringing out the kid and nostalgia in all of us.  Peggy Ma collects vintage dolls, concentrating on the beautiful Lenci felt dolls.
This event will be limited to the first 30 people who register at the Museum with a $10 per person donation for the ongoing work of the museum in its mission to collect, preserve, display, and interpret the history of the western Illinois region.
Tour participants will meet at the museum at 2:00, Sunday, October 17, and be divided into three groups which will be rotated from home to home.
This event is a part of the series Who Collects What…, which has featured other fascinating collections. Save the date for an upcoming program on Thursday, November 4 at 7:00 pm with violin collector Terry Dillard, in conjunction with the upcoming exhibition, New Harmonies: American Roots Music, October 23-December 4.
The Western Illinois Museum is located at 201 S. Lafayette, Macomb, Illinois. For more information contact the museum at (309) 837-9441, info@westernillinoismuseum.org. 
---
Lamoine Hotel Receives Historic Designation
MACOMB, IL (wium) - The city of Macomb has received a big boost from the federal government that will help renovate the aging Lamoine Hotel.

The Illinois Historic Preservation Agency announced Wednesday the building has been added to the National Register of Historic Places, wrapping up a nearly year and a half long effort by the city to gain the designation.

Placement on the National Register affords developers the opportunity for federal tax credits on money spent to rehabilitate historic buildings such as the old hotel, which dates back to the 1920's.

City Administrator Dean Torreson says this is good news, and the city will continue to push for more help to get a renovation started.

"We're still hoping that the state of Illinois would adopt a program similar to the federal program, but it would be state tax credits available for the same work," says Torreson. "You can piggy back those two things and have a 45 percent tax credit, which would be a big draw."

Torreson acknowledges that placement on the register doesn't guarantee work on the hotel will start any sooner. In fact, he says the city hasn't talked to the most interested developer in at least a couple of months. But, Macomb leaders will likely try to contact the developer with the new information.

Ideally, the city would like to turn the upper floors of the building into apartments and/or condominiums, while leaving the ground level floor open for commercial uses.

The building currently houses the McDonough County Voice/Choice, and the higher levels are deteriorating.

Torreson says if the city waits much longer, there won't be a building to save.

© Copyright 2010, wium
---
For Immediate Release
September 27, 2010   
The Macomb Centennial Morning Rotary Club
helps paint exhibit space at the
Western Illinois Museum
On September 21st and 22nd the Western Illinois Museum welcomed the help of the Macomb Centennial Morning Rotary Club to paint the main exhibition space.  The walls got a fresh coat of paint donated by West Side Lumber Ace Hardware, one of the museum's new Business Partners. 
Board member, Lowell Lueck, commented, "Getting the space painted was truly a community effort and the board is grateful for everyone's willingness to assist the museum." 
The museum will open again on October 23rd with the Smithsonian traveling exhibit, New Harmonies: Celebrating Roots Music which will be on view through December 4th. 
Pictured in the image above, from left to right: Don Johnson, Sharon Larson, Rick Crossett, Patricia Friday and Jim DiTulio
---
Courses of interest offered by the LIFE (Learning is Forever) program at WIU
To register go to: http://www.wiu.edu/LIFE/
McDonough County Cemeteries
For over four years, the McDonough County Historical Society (MCHS) has attempted to locate and bring due recognition to the more than 100 cemeteries in McDonough County. While some of the county's cemeteries are still in use and well-maintained, a large number are sadly neglected. In many instances, the installation of a new MCHS sign has provided motivation for volunteers to clean up an abandoned cemetery and restore it to dignity, order, and respect. In the process, often fascinating stories emerge about those laid to rest in a particular site, their families, jobs, migrations, and other important life events. Each Saturday morning, participants in this class will visit three or four rural cemeteries located in one of the quadrants of the county. Each class will begin with an orientation (conducted in the lobby of the Radio Information Services Building, formerly the Hy-Vee market), after which they will car pool and caravan to the various cemeteries.
Coordinator: Gil Belles
Class sessions: Saturdays, September 11 & 18; October 2 & 9
Time: 9:30 am--approximately noon
Place: Radio Information Services lobby on W. University Drive and N. Lafayette Street
Parking: At the site Cost: $10.00
Scrapbooking Your Family History
A great way to preserve your family history and the interesting stories accumulated through the years is to put them into a scrapbook that is sure to become a family treasure, passed down (and added to) from generation to generation. This course will include lists of local genealogical resources and useful Internet sites that will enable participants to gather information about their ancestors. The class will explore the process of designing scrapbook pages and will study examples created by a local artist. The class will also make a trip to the Scrapbook Nook in Colchester to purchase the necessary supplies.
Coordinators: Betty Kaspar and Patricia Hobbs
Class sessions: Thursdays, October 14, 21 & 28
Time: 3:30-5:00 pm
Place: Spoon River College Community Outreach Center
Parking: At the site Cost: $10.00
A Trip Back to the One-Room School: Seeing Is Remembering
No history of rural education is complete without the inclusion of the one-room school. By means of a visit to a museum dedicated to the topic, this class will address this important aspect of McDonough County's past. Participants will receive an orientation about one-room schools in our area and then carpool to Ipava where Mr. and Mrs. Marian Cornelius have developed a restored one-room school that is part of a larger museum project that also includes Camp Ellis material as well as the remains of a log cabin. Following the tour of the museum, the class will drive on to the historic community of Bernadotte for lunch in a café overlooking the Spoon River. The return trip to Macomb should occur by mid-afternoon. Maximum enrollment: 30.
Coordinator: Louis Battin
Class session: Thursday, September 23
Time: 8:45 am-midafternoon
Place: Wesley United Methodist Church, 1212 W. Calhoun Street
Parking: At the site, lower level lot Cost: $5.00
---
FOR IMMEDIATE RELEASE
FROM OFFICE OF BUILDING & ZONING
 Contact: Ed Basch, Community Development Coordinator
                 833-4944
* * * * * * * * * * * * * * * * * * * * * * * * * * * * * * 
Public Meeting on
Downtown Macomb Historic Preservation Project
 The Macomb Historic Preservation Commission (HPC) will be sponsoring a public informational meeting.
WHEN?   on Tuesday September 14, 2010.
               The event will begin at 5:15 PM
WHERE?  at the Western Illinois Regional Arts Center
                 building located at # 25 East Side Square
                 in downtown Macomb.
All Macomb citizens are welcome to attend but the presentation will be targeted specifically towards owners and renters of properties within the City's Downtown Historic District.
The purpose of the meeting will be to provide an opportunity for Granacki Historic Consultants to explain the recently begun downtown intensive survey project including what it is, how it may affect downtown businesses and what its ultimate outcome will be. Granacki Historic Consultants has been contracted with by the City of Macomb to supervise and direct the building by building historic survey and ultimately prepare a detailed written report.
The Historic Preservation Commission is also searching for volunteers to help with the survey as a certain number of local volunteer hours are required as match for the State grant awarded to Macomb for this project. The ideal volunteer would be available during day time hours to do historic research at the archives of Western Illinois University, the Macomb Historical Society, City Hall, etc.
Accordingly, a training meeting for anyone interested in volunteering has been scheduled for 8:00 AM-9:00AM on Wednesday September 15, 2010 at the Community Room in Macomb City Hall.
---